Start your sourdough baking with Elaine Boddy's first cook book, Whole Grain Sourdough at Home. A brief review of the book. Full of recipes using Ancient Grain Flour alongside traditional Strong White Flour.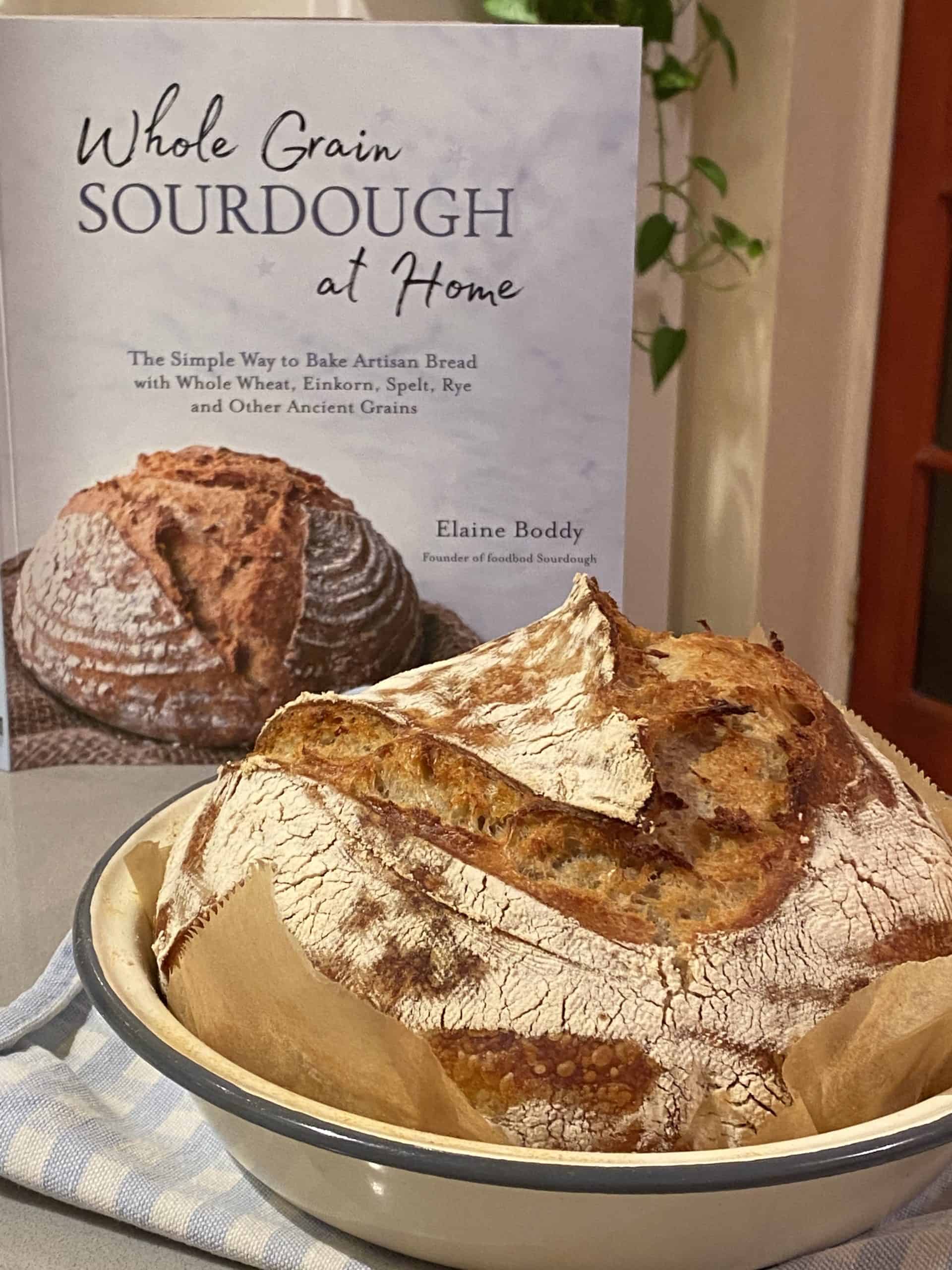 Since I acquired this book in 2020 just after publication my sourdough baking has improved immensely. I've even started baking other recipes using some of the flours mentioned in Elaine's book. A Guide to Different Types of Flour will give you an insight into some of those recipes and different flours.
I love making traditional bread using a mix of different flours. This White Pullman Bread is one of my favourites, so too is this Easy Rosemary Focaccia, a staple in our house.
INTRODUCTION TO THE BOOK
This book regenerated my love for sourdough baking. In the beginning, I followed Elaine's instructions on How to Make a Sourdough Starter. Within 7 days, I had enough bubbles to make my first Sourdough Loaf.
Using Elaine's 'Super Lazy Sourdough Master' recipe, with a much shorter folding and proofing time, I produced a lovely tasting loaf, that I was thrilled and delighted with. The sourdough taste was light and delicate.
TYPES OF SOURDOUGH RECIPES
MASTER SOURDOUGH RECIPES
Elaine has three Master sourdough recipes that you can follow. Not all of the Master recipes start at the same time but with the timetables given, it's possible to fit something in with your daily routine. Sourdough needs very little hands on work. Most of the time it is left to proof and mature.
It takes only a few minutes to perform all the pulls and folds between proofing.
SUPER LAZY SOURDOUGH MASTER
This was the first master recipe I used and is ideal when you don't have the time to perform some of the necessary pulls and folds. It produced great results for my first recipe from the book.
SAME DAY SOURDOUGH MASTER
Elaine sets out all the timings you need to have a fully baked Sourdough loaf by late afternoon. Starting at 9:30am and baking in the oven by 5pm.
CONTENTS AND OTHER RECIPES
I have baked using Whole grains before and love their flavour. The taste is a world away from the flavour you get when baking with many other white processed flours.
Whole Grain flours are used extensively in the recipes. As an introduction, Elaine explains how each of the ancient grains reacts while the dough is being pulled and stretched.
Some produced a sticky dough and some hold their structure a lot less than others. This information helps you understand how and why some doughs react differently during the pull and fold process.
There's a whole list of recipes to make ranging from Sourdough Boules to Focaccia. Buttermilk sourdough Biscuits, speedy crackers and simple Sourdough Loaves.
BUY THE BOOK
Whole Grain Sourdough at Home is available on Elaine's website Foodbodsourdough.com
Elaine has gone on to publish her second book 'Sourdough Whisperer' published in 2022, of which I was very kindly gifted a copy. I would thoroughly recommend both books.