Improve your pastry making skills with this simple guide How To Blind Bake Shortcrust Pastry. With a little practice, I am confident that you'll become a pastry-making master. Remember, every expert baker started as a beginner, knowing How To Line A Tart Tin With Pastry is also key. Success comes with perseverance and a passion for learning. You can do this, I know you can.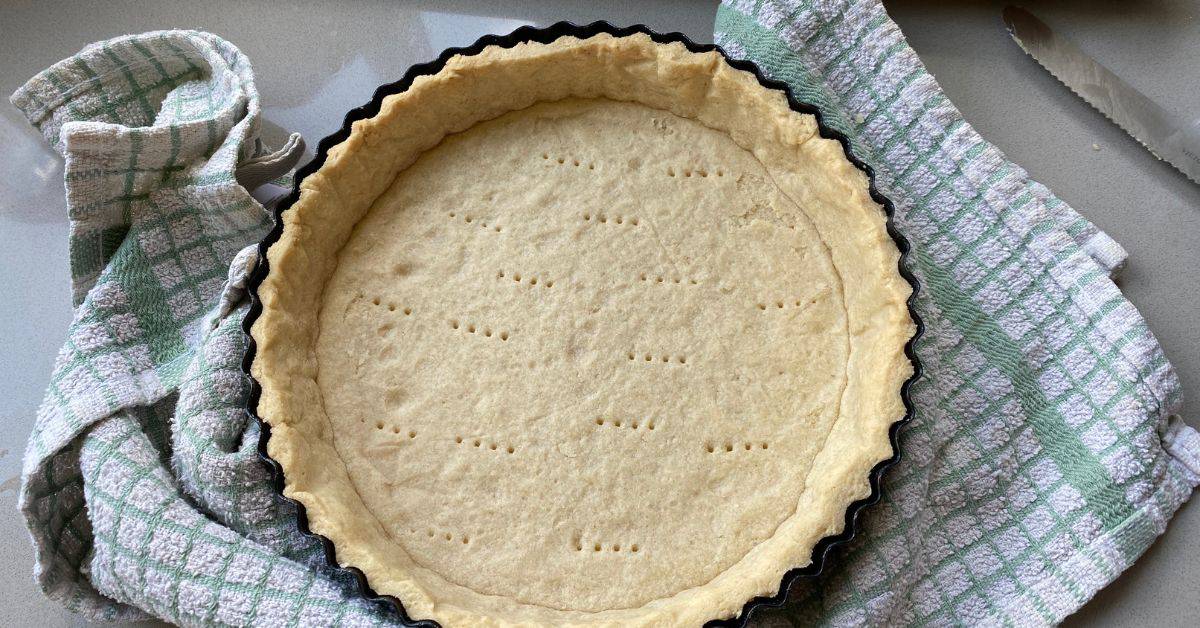 Jump to:
What is Blind Baking?
Not all pastry recipes require you to blind bake, but when it does, Blind Baking means that the pastry needs to be baked before any filling is added. It helps reduce a soggy bottom, which is important as some fillings may take less time to cook. It also depends on how deep you fill your flan or tart.
Ready Made Pastry cases - You do not need to blind bake ready made shortcrust pastry. These ready made/ready baked pastry cases are ready to use and can usually hold most fillings and if needed, they can be placed in the oven to cook the contents.
Jam Tarts - Once you have placed the circular disks of pastry into each hollow, simply add your filling, such as jam, curd or mincemeat if making mince tarts and bake according to the recipe.
Small Pies - When using a muffin tin or bun tin to make small apple pies with lids, line each hollow with pastry, add your filling and pastry topping, ideally with an opening to let the steam out and bake according to the recipe.
Note: If you are using a deep muffin tin, don't forget to line each hollow with a strip of baking parchment making it easier to remove each pie when baked. See How To Line A Tart Tin With Pastry for more details.
Large Pies with a pastry lid such as this recipe for Apple Pie with Shortcrust Pastry which I didn't blind bake at all. I made sure that I chilled and rested the dough, and lined the ovenproof dish with sufficient depth to enable me to fill with plenty of fruit. I also made sure there were no cracks in the base for the juices to run out and made a hole in the centre of the pie top to allow the steam to escape.
Open Topped Tarts large and small such as Quiches, custard and fruit tarts, I always blind bake. This is because the fillings are often quite runny and would seep into the raw dough while baking, resulting in a soggy uncooked bottom.
How To Blind Bake Pastry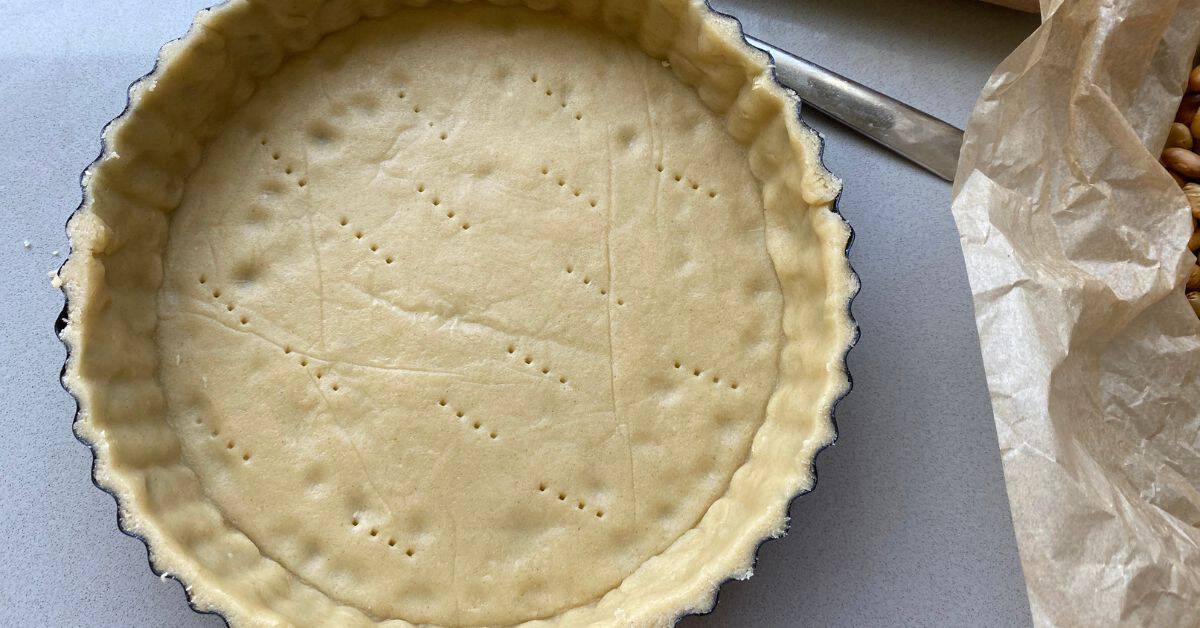 Step 1: When the tart tin has been lined with pastry then chilled and rested in the fridge to firm up, prick the base of the pastry dough with a fork, taking care not to cut it all the way through. This is to help prevent the pastry from rising too much during baking, especially when you remove the baking beans.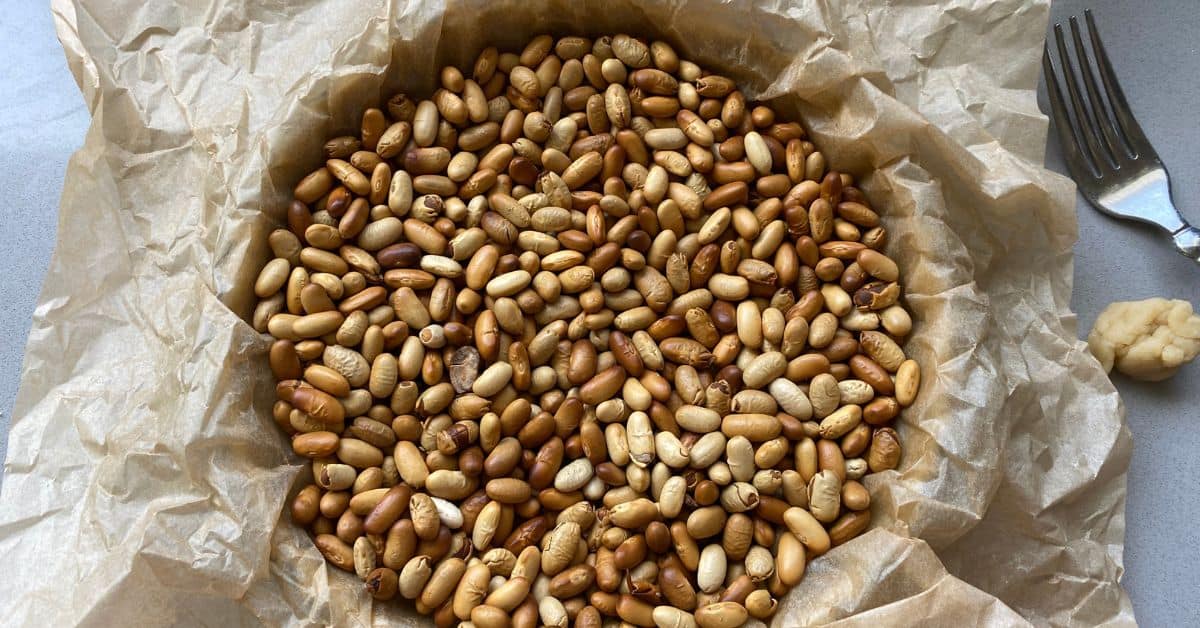 Step 2: Crumple up a piece of baking parchment large enough to cover and mould to the size of the pastry case with some overlap.
Fill and cover the parchment with enough dried beans, or small ceramic baking beans to cover the base and support the sides of the pastry. Note: Without this, it will be very difficult to have a successful outcome. The sides may collapse and the base may bubble up.
Blind Baking Small Pie Crusts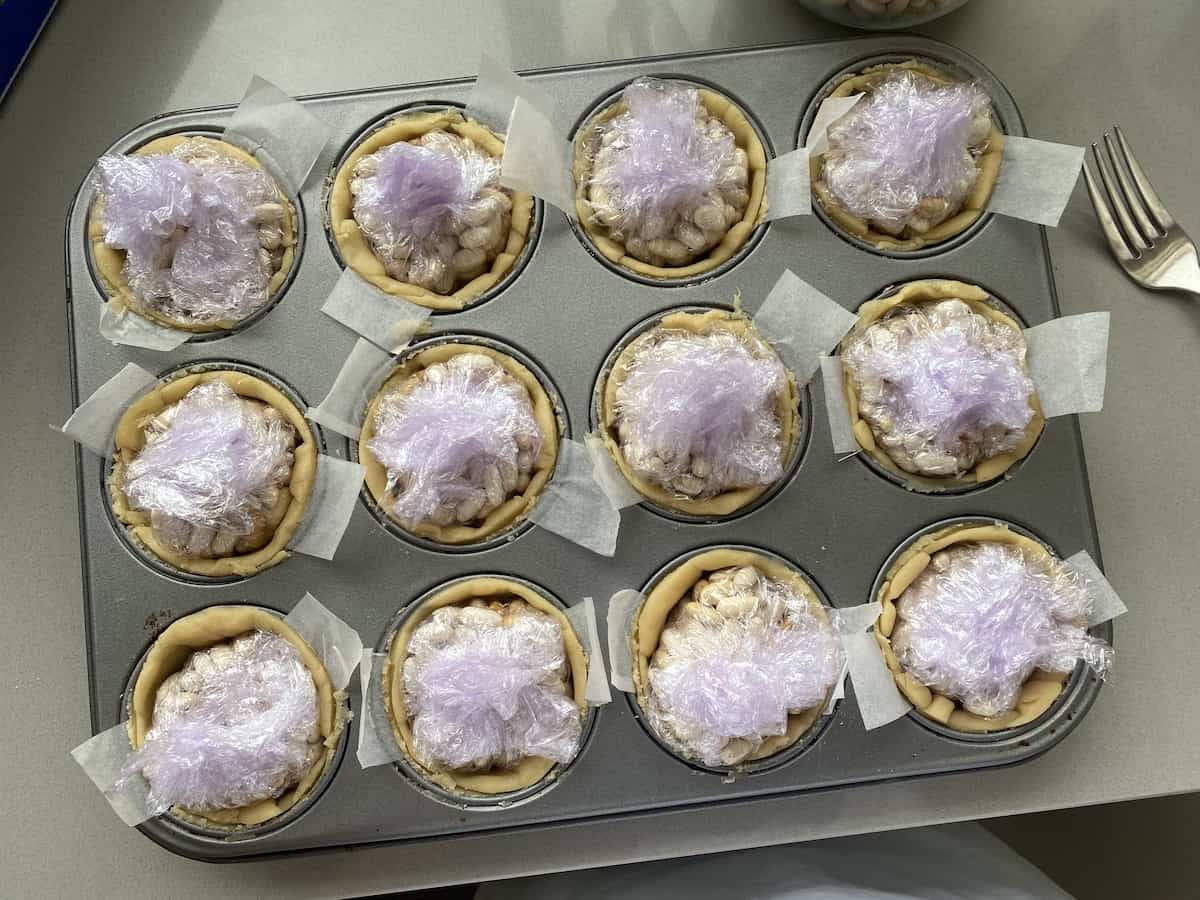 If a recipe calls for you to blind bake small custard tarts before you add the custard filling, place small strips of baking parchment into each hollow before adding the circles of pastry dough. Note: This will make it easier to remove the tarts after the final bake containing the custard.
Line with a double layer of industrial clingfilm, the kind that doesn't melt, and fill will dried beans. Follow the steps below, removing the pockets of baking beans before returning them to the oven for a few more minutes to dry out.
How Long To Blind Bake Shortcrust Pastry
If you are wondering what temperature to blind bake shortcrust pastry, it is usually 200C/400F. Ideally, you should pre-heat the oven to the required temperature first.
Depending on the size of the tart you are making, bake for around 15 - 20 mins or until the sides and base of the pastry case have cooked through with a very light golden colour. Remove the baking beans and baking parchment and return to the oven for 1 or 2 mins more until the pastry feels dry to the touch with a slight golden colour.
Note: If you try to blind bake from a cold oven, the chances are the butter in the dough will begin to melt before the flour bakes and sets, as the oven heats up. The sides of the tart are likely to collapse, especially if it isn't supported with baking parchment and baking beans.
If the pastry has begun to rise, this suggests air is trapped underneath the base. Carefully flatten with the back of a spoon taking care not to break the pastry which will allow the filling to seep through.
It is worth noting that some recipes may call for you to coat the baked pastry case with an egg wash then return it back to the oven for a couple of mins to bake. This is often done to seal any potentially small cracks that have appeared in the pastry case during blind baking where liquid may seep through when you add your filling. It can also help reduce a soggy bottom by creating a barrier between the filling and the pastry.
Key Pastry Tips and Faqs
Tip 1 - Chill and Rest the pastry in the fridge as often as you can, especially when the weather and kitchen are hot. Remember to cover it first to help prevent it from drying out.
Tip 2 - Use enough dried beans to fill and support the sides of the dough casing.
How Long Should Shortcrust Pastry Rest?
Shortcrust pastry should rest and firm up in the fridge for at least 30 mins. This help relax the gluten in the flour and firm up the butter.
Can You Overmix Pastry Dough?
Overmixing and overhandling pastry dough could make the pastry tough and inedible. You want a nice flaky pastry. Once all the dry ingredients have been brought together, wrap it in clingfilm and place it in the fridge to rest and firm up.
What Causes Pastry to Go Hard?
Overhandling the pastry can cause it to bake hard and tough. Also the addition of extra flour when rolling it out. Keep handling and rolling to a minimum ideally done between two sheets of baking parchment.
What to Bake with Shortcrust Pastry
Now that you have understood the basics of What Is The Best Tart Pan (Tart Tin) To Use For Pastry, How To Line A Tart Tin With Pastry and How to blind bake, try these recipes. There will be more to come.
Please let me know how you get on in the 📝 comments below. I love hearing from you! Subscribe to my Newsletter!