Choosing what is the best Tart Pan (Tart Tin) to use for pastry is essential for baking delicious pies, tarts and quiches. Whether you're a seasoned baker or a beginner, this simple guide will help you choose the ideal tart pan to create perfect tarts every time. These Pastry Making FAQs cover many other aspects of pastry making.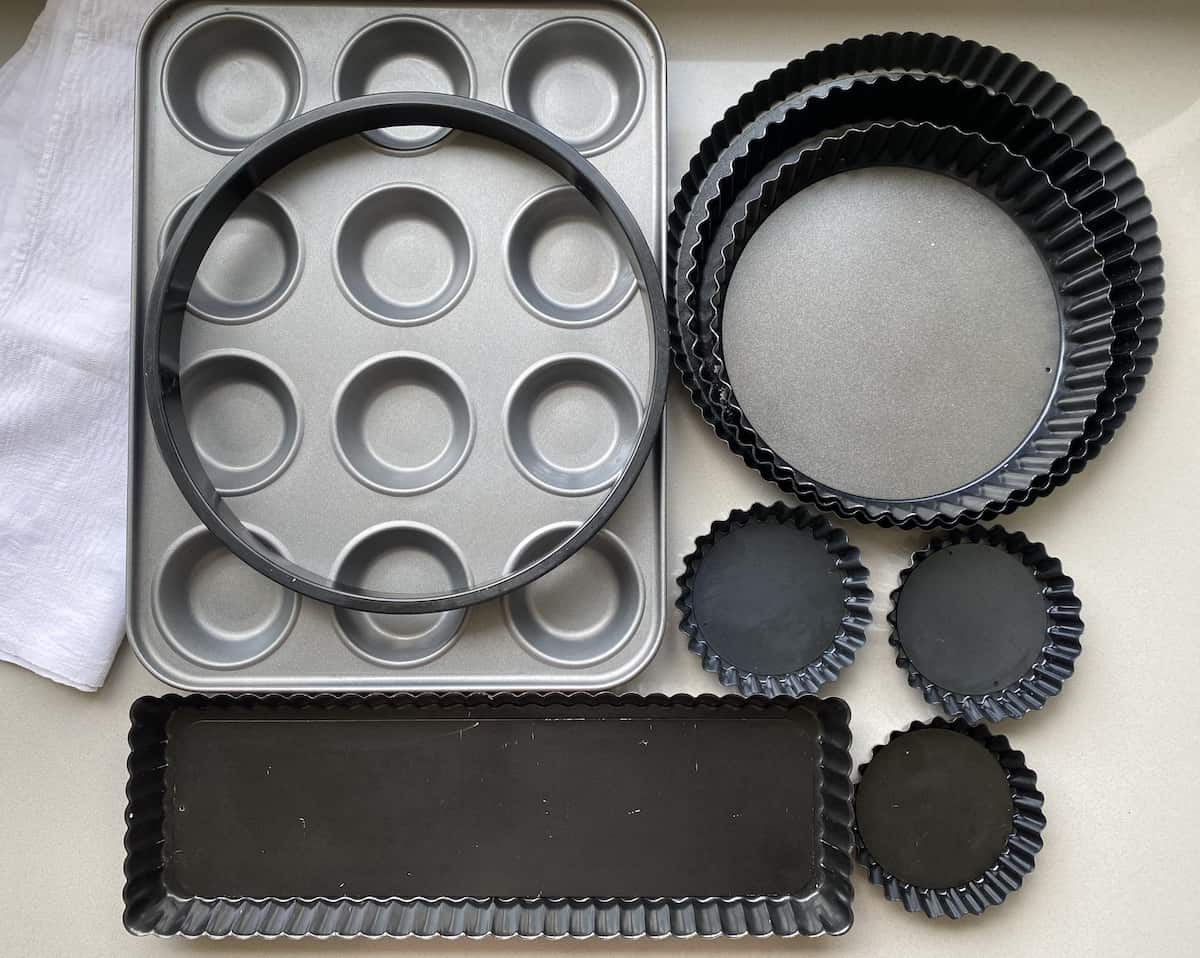 Jump to:
What Type of Tart Pan To Use
Virtually any Tart Pan, Tart Tin or ovenproof glass bakeware can be used to make most shortcrust pastry recipes ranging from an Apple Pie With Shortcrust Pastry to an Asparagus Tart. But choosing the correct one for the recipe is essential for several reasons. Learning How to Line a Tart Tin correctly is important too
The wrong size and shape of the container could result in overcooked, or undercooked pastry, with the potential to cause a soggy bottom. Especially if you are using too much or too thickly rolled out pastry in too small a sized tin or vice versa.
The material the container is made from can affect how the pastry bakes. Non stick and traditional metal tins conduct heat more efficiently than other materials, giving a more even bake. Non-loose bottom and ovenproof dishes or tins retain juices from thinner fillings, such as fruit juices from fruit pies, reserving liquid in case of seepage through cracks while baking.
The depth of the tin is very important. Deep-filled pies or tarts require deeper sided tins to accommodate the filling, while shallower tins are more suitable for open topped tarts such as flans, or quiches.
12 hole Tart Tins are ideal for making jam tarts or mince pies at Christmas while muffin tins are ideal for making small custard tarts and individual apple or other fruit pies.
Mini Tart Tins usually are fluted and come with a removable bottom, making it easier to remove the tart when baked.
Flan Rings which holds a flan or quiche in place on a baking tray while baking, can simply be lined with pastry in the same way you would a flan tin.
Fluted Tart Pans and Dishes can also impact the serving and presentation of the final dish making it more appealing to eat. For example, tins with a removable base allow for easy removal and presentation of the whole tart or pie. Tins with fluted edges or decorative designs enhance the appearance of your baking, adding an extra decorative touch.
As you can see there are a number of tart tins and containers you could use.
Action Steps - Declutter Bakeware
Now would be a good time to go through all of your baking tins and dishes. Unused items could be given away to a friend or to charity.
Many tins can be kept in large plastic storage boxes in the cupboard. Large tart tins, ring tins, bun and muffin tins can all be kept upright. Simply pull out the storage box and take out what you need.
Keep all loose tin bottoms together as they can easily go walk about, like plastic containers missing their lids.
Now that you have chosen your container, follow this simple guide, How To Line A Tart Tin With Pastry